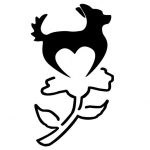 Hours of operation are 8:30am-5pm Daily. By appointment only.
Service areas include Bend, Sisters, and Redmond, OR.
No weight limit for bath only dogs, and 80 lb. weight limit for full haircuts. (Dogs over 40 lbs. must be able to stand and walk on their own.)
At least 48 hrs notice is required to change or cancel an appointment. No-shows or cancellations that occur with less than a 48 hour notice will be noted. Appointments scheduled thereafter will require the groom to be paid in advance and is refundable with 48 hours notice. Any add-on services needed on the day of the appointment will be charged at that time.
Please make sure someone is home for the entire arrival window that your appointment is scheduled for, and an hour after while your pet is being groomed, unless latchkey service has been set up with us.
50 ft. (about 3 car lengths) of flat space is required for us to be able to park the truck and mobile salon. For power, we most often plug an extension cord into a residential outlet that is either at the front of your house or in the garage, but we also have a backup generator for locations where an outlet may be unavailable.
We are unable to service retirement homes. People in apartments must be able to meet us curbside when we arrive at the nearest available street parking.
In the event of weather conditions such as snow or ice that prohibit safe driving, we will contact you to reschedule your pet's grooming appointment.
Blooming Mobile Grooming does not accept aggressive or sedated animals.
A $35 trip fee will be charged in the event that we show up for your appointment and your pet cannot be groomed because:
your pet is too aggressive to be safely handled by the groomer
we don't have access to your pet or the owner cannot catch their pet in a timely manner
your dog is over our weight limit (haircuts)
your pet has stitches or an open wound that could become infected (shallow artificial wounds such as hot spots are Ok)
your pet has been sedated
your pet has recently had ANY contagious ailments
If you are unhappy with your services for any reason please notify us within 48 hours of service and Blooming Mobile Grooming will correct your complaint.
Latch-key service is available if you would like to schedule an appointment while you are away from home. You may provide a key or garage code. The owner must be home for the first appointment.
Payment is due at the time services are rendered. Cash, checks, and credit cards are accepted. There is a $35 fee for bounced checks/insufficient funds.
For quickest response, please text us or fill out an online appointment request form on our website.  During hours of operation we are either driving or working on a pet and cannot hear to talk on the phone, but will return voicemails as soon as possible within 24 business hours. Texting/appointment inquiries are most efficient. The office is closed Saturdays and Sundays.
Anal glands expressed upon request.
Dogs with matting too severe to remove humanely will be required to be shaved down. Severely matted dogs that are felted together and must be shaved before and after the bath will have $20 added to the groom fee.
If your cat is too severely matted/pelted for us to humanely comb out or to safely shave, we will do a nail trim ($25) and recommend a veterinary hospital where your cat can be shaved and simultaneously monitored by a veterinary staff. We do not offer shave downs for senior cats.
Our insurance prohibits allowing any person aside from the groomer to be in the trailer, however, we would be happy to let you take a peek from the doorway to check out the inside of the mobile salon prior to your pet's grooming.
We do NOT offer ear hair plucking. The process is painful for dogs and because it often leads to ear inflammation or hematomas that are best treated by your veterinarian, we recommend it be done at a pet hospital if it is necessary.