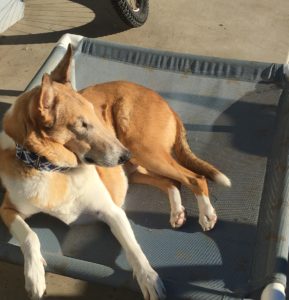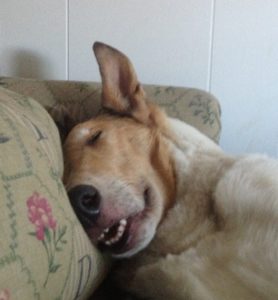 Above is my senior, Sundance,  enjoying the sun and snoring away on his lounge chair. 💕
Grooming can be physically and mentally exhausting for dogs, especially when they are in their golden years. It is best to make it as quick and stress-free as possible, which is why mobile grooming is ideal for our 10 year+ furry family members.
Instead of having to get into the car and be dragged into the grooming shop, your senior dog can just be lifted into our mobile grooming trailer, just steps outside of his/her own home. This greatly reduces their anxiety that builds in anticipation of being groomed. In addition, the only noise in mobile grooming is the hum of the generator and the single hand-dryer, as opposed to brick and mortar grooming shops that usually have many dogs barking, and many dryers going at one time, creating a noisy and nerve-racking atmosphere.
In order to get dogs clean and properly brushed or clipped, they are required to stand for at least part of their groom, which can be difficult for seniors with arthritis and aching joints to do for very long. In order to minimize the amount of time standing, it is important that your senior dog be groomed as quickly as possible from start to finish, without waiting around for hours in a cage while other dogs are being worked on. Some grooming shops will offer to put your dog ahead of the line of other dogs waiting to be groomed, but will charge an "express" groom fee. Mobile grooming allows for every dog to have a one-on-one straight through express grooming service, done in 1-2 hours at most, then back to the comfort of their cozy beds.
Below are pictures of some of the Blooming Dog Mobile Grooming senior dogs, all 10 years or older. What a difference mobile makes!